About us
The Feedbarn Suffolk is run by Laura Brown, who comes from a local farming family and has been working with and feeding animals all her life.
After completing studies in Agricultural Marketing at Harper Adams Agricultural College (Shropshire), she followed a career path in food retail, buying/selling and marketing fresh produce to the U.K.'s major supermarkets.
In 2015 she left her commercial role with the U.K's leading food retailer to pursue a long-term passion to establish and run her own animal nutrition and pet care business.
In parallel to The Feedbarn Suffolk Laura had been studying to achieve a Diploma in Canine Health and Nutrition with The British College of Canine Studies, now as a fully qualified Canine Nutrionist Laura is able to offer 121 Canine Nutrition Consultations.
Meeting the challenges
As the owner of 6 dogs and 2 horses Laura knows from personal experience how difficult it is to navigate the current animal food market. "We want our pets and animals to be at their optimum health for their specific lifestage and lets be honest we have a budget to look after too, it doesn't need to cost a fortune!!"
An additional challenge today is fitting in the needs (feed, healthcare, and quality time) of creature companions with our busy work and personal lives.
To lighten the load, The Feedbarn Suffolk provides a multi-channel, one-stop-shop designed to fulfil all the nutritional needs of your animals and provide a wide range of pet care items.
In-store and on-line, by email, phone and text message, we are 'accesable' for orders, enquiries, and deliveries.
Our business seeks to meet customers' expectations and any specific needs on a one-to-one basis.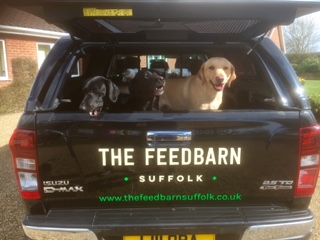 Why choose The Feedbarn Suffolk?
Shop local – we make it simple, save you time, money, and reduce your carbon footprint
Personal touch – our friendly, yet professional and knowledgeable team seeks to build relationships with customers based on honesty, trust and understanding
All inclusive – individual pets to flocks and herds
Quality and competitive pricing
Deliveries you can count on – no more worries about running out of food, and an emergency contact for when you do!!
The right food for the right animal at the right stage in their life to guarantee optimum health and condition