Here at The Feedbarn Suffolk we do more than just deliver.
We will place the 'High Flier' bird seed into the container in your garden shed and remove the paper sack; we will fill up the chicken feeders with 'Layers Pellets'; and supply the feeds straight into your feed room where we fill up the bins and remove the sacks. No hassle, no stress. Peace of mind. Just let us know what you need.
Our 'seamless' delivery service means no more worrying about running out or having to fill up! In fact our customers can wave goodbye to these concerns altogether! Their stocks remain constant and always sufficient for usage.
We offer a Local Delivery Service*… with a difference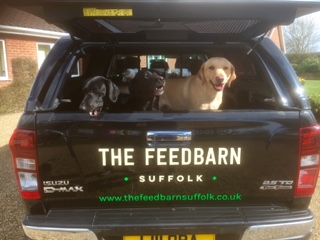 Since difference is in the detail, when calling we place your products exactly where you need them, and even take the used sack or box away to save you the bother.
Our Local Delivery Service* is offered within IP19 on orders of £60 and over and will be on a specified day.